JAPAN: THE OTHER WHISKY COUNTRY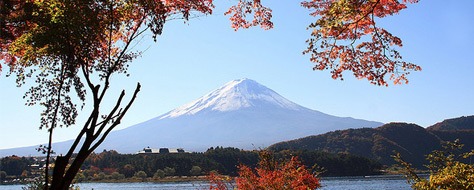 In just a few years, Japan has evolved from an up-and-coming hopeful to a country that produces exceptional whisky, thereby joining the close-knit circle of whisky-making nations.

Two groups share the spotlight: the giant Suntory, owner of two distilleries, Yamazaki and Hakushu, and producer of the famous Hibiki blend, immortalised in Sofia Coppola's film 'Lost in Translation', and the Nikka group, owner of the Yoichi and Miyagikyo distilleries. Unlike their Scottish counterparts, Japanese distilleries must be 'self-sufficient' to produce blends. No whisky stock is exchanged between the two groups. As a result, the Nikka group's blends, like blends from the Suntory group, are essentially made from malt whiskies and distilled grain whiskies, and aged in distilleries belonging to the respective groups.
Japon
Production: 68 million litres/year

EXPRESSIVE SINGLE MALTS
While a small number of Japanese blends and vatted malts are directly inspired by the Scottish model, Japanese single malts have developed their own unique style. The most renowned distilleries in Japan produce single malts with strong personalities that rival (and sometimes even beat) the greatest of Scottish whiskies. A temperate climate, pure water, the presence of peat bogs (especially on Hokkaido island), and the skills and expertise of Japanese distillers, all combine to explain the high quality of Japanese single malts. For example, the Yoichi distillery on the island of Hokkaido has an underground stream whose water is filtered through the peat: the very best water for making whisky. It has its own kiln topped with pagoda chimneys. Although the kiln is no longer in operation, the distillery continues to use peated and unpeated malted barley. Its pot stills are heated over an open flame with charcoal powder, a traditional method that most Scottish distilleries have gradually abandoned. These onion-shaped and relatively compact stills produce a rich, full-bodied spirit. The Yoichi distillery has other attributes. Just one kilometre from the sea, its geographical location results in a complex whisky with salty, almost medicinal notes. In addition, Yoichi has its own cooperage, and takes particular care in the selection of its barrels, most of which are first-fill hogsheads made on-site from bourbon barrels, a practice that is becoming increasingly rare in Scotland.

SCOTTISH-INFLUENCED BLENDED WHISKIES
The fact that the Japanese incorporate a proportion of Scottish single malts into their whiskies is an open secret. This practice only concerns blends and vatted malts, and is further confirmed by the fact that Nikka owns Ben Nevis, a Scottish malt distillery. The practice is also employed by its rival, Suntory, owner of the Auchentoshan, Bowmore and Glen Garioch distilleries. These two giants produce a huge number of blends mainly for the Asian market. Thus, the Nikka Pure Malt White, a very peaty vatted malt, is a blend of Yoichi single malt and single malt from the Isle of Islay. Much less dry than its Scottish equivalents, it reveals itself to be surprisingly well-balanced and mellow. The quality of this whisky is due to both the power of the Islay single malt and the excellence of that produced at Yoichi.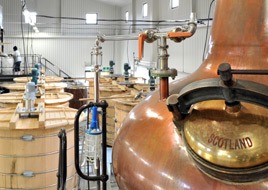 Chichibu's stills

PREMIUM BLENDS
While the single malts stand out thanks to the care taken in their selection, Japanese blends are equally impressive. Loyal to the blended scotch tradition, which the Scottish themselves tend to ignore, they contain a high percentage of single malts. The best of them, notably the Blend of Nikka, contain over 50% malt. The grain whisky is always made from corn. In Scotland, corn has gradually been replaced by wheat. Despite being attached to tradition, Japanese whisky producers are keen innovators. Nikka from the Barrel is a high alcohol content blend (51.4% ABV) finished in first-fill bourbon barrels. Ultimately, Japanese blends are light. Yet they are full of personality. They are packed full of fruity and vanilla notes. Balanced between tradition and modernity, the whisky industry embodies Japanese society.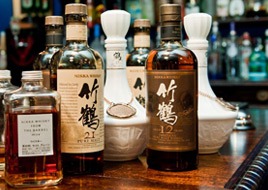 Nikka: From The Barrel, Taketsuru, Tsuru Ceramic