VERMOUTH - THE VERMOUTH GUIDE
ORIGIN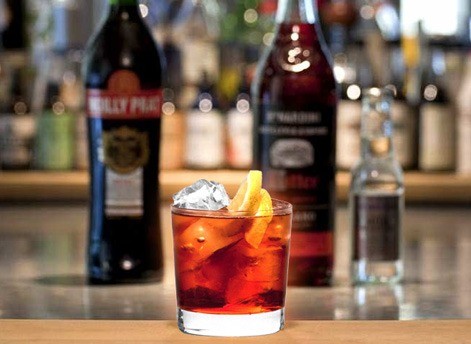 Vermouth is a pre-dinner drink made from wine fortified with a spirit that is then flavoured with an infusion of herbs and spices. Some European vermouths have been awarded 'protected designation of origin' status.
TURIN - THE BIRTHPLACE OF VERMOUTH
The cities of Chambéry and Turin have been jostling for the title of the birthplace of vermouth for a long time now, following the division of the Duchy of Savoy between France and Italy in the 19th century. Yet the name 'vermouth' was most definitely first used in Turin, invented in 1786 by Antonio Benedetto Carpano based on a German aperitif made from wine and Wermut ('absinthe' in German). King Carlo Alberto's coronation as ruler of the Duchy in 1831 elevated Turin to the status of official international capital of vermouth. In a prosperous and influential city like Turin, vermouth quickly became a popular drink, mainly enjoyed at the end of the day at 'aperitivo' time. As a direct consequence of its success, an aristocracy of Turin-based vermouth manufacturers emerged
THE VERMOUTH BARONS FROM ITALY TO FRANCE
A number of well-established and reputable Italian families began to distribute their own vermouth, including the Cinzano family. Once the family had established their company in Turin, they quickly developed a network of salesmen to expand their vermouth sales to France, where the aperitif was widely emulated. In 1813 for example, French liqueur and absinthe manufacturer Joseph Noilly introduced his recipe for a dry vermouth, made from the white wines of Languedoc. His son Louis took over the company in 1829, and began exporting his absinthe, liqueurs and vermouth beyond France's borders. In 1843, his brother-in-law became his partner and the company was renamed Noilly-Prat. In 1844, the first order was shipped to the United States (New Orleans and New York). Simultaneously, in 1821 Joseph Chavasse developed his own vermouth in Chambéry. Made from local herbs, this vermouth was named Dolin and was the first to be awarded the AOC label a century later (1932). The Dolin brand was also responsible for selling and marketing the first white vermouth.
VERMOUTH TAKES AMERICA BY STORM
Carlo Alberto was displeased by the market share taken by French vermouth manufacturers, particularly in the United States. He quickly recognised the dangers of having restricted sales of Turin vermouth to the local market. He decided to join forces with the Italian Cora brothers, who had founded a company in 1835 and were exporting massive quantities of vermouth to the United States to be sold on to Italian expat clients. To protect Turin's vermouth from potential copycats, Carlo Alberto granted them the first licences in 1840. In this spirit of international expansion, the Distilleria Nazionale de Spirito de Vino was founded in 1849. In 1860, driven forward by new CEO Alessandro Martini, the distillery became a key player on the global vermouth market. In 1865 (in Dublin) and in 1867 (in Paris), his vermouth won a number of awards, and in 1868 the company exported its first bottles to the United States. In 1879, the Martini company became Martini & Rossi, following the departure of one of its shareholders. It was ultimately due to Martini & Rossi, and Cora, that vermouth enjoyed incredible expansion in the United States, the United Kingdom and France.
DEFINITION
Vermouth is not a spirit. It is made from a wine fortified with a spirit that is then flavoured with an infusion of plants (absinthe wormwood), peel, seeds, leaves, flowers and/or citrus fruit zest. Its sugar content varies, as does its colour, which can be enhanced using caramel. Vermouth generally contains between 14.5% and 22% ABV.
VERMOUTH, STEP-BY-STEP
Vermouth is made in three key stages.
Step 1 – Preparing the wine
The quality of the vermouth depends on the selected wine. The vast majority of vermouths are made from wines that: are aromatically neutral, have low alcohol content, are made from a blend of several different grape varieties. In France, the selected grape varieties are generally located in the Gers region (Clairette, Colombard, Picquepoul, Ugni Blanc, Muscat, etc.). Noilly Prat uses a blend of Clairette and Picquepoul to make its vermouths. In Italy, the wines are mainly sourced from Piedmont and Pouillesoude (Sicily). The main varieties used are Muscat (for Carpano vermouths among others) and Trebbiano (Cinzano vermouths). Whether sweet or dry, vermouth is made from white wine aged between 2 to 3 years. It is fortified with alcohol or mistelle (fresh grape juice mixed with alcohol) to 18% ABV.
Step 2 – The addition of herbs and spices and extraction of aromas
Roots, seeds, herbs, flowers, peel, leaves, zest - as with gin, the choice and proportions of herbs used play a key role in the ultimate character of the vermouth. These two alcohols use the same flavouring extraction methods (by maceration, infusion or distillation). The flavourings are then mixed with the wine. Almost a hundred different herbs and spices have been used in vermouth, with each recipe containing up to 30. The most common are: coriander, bitter orange, angelica, clove, cinnamon, absinthe, gentian, elderberry, cardamom, anise, vanilla, cinchona bark, iris, marjoram, camomile and sage.
Step 3 – Final adjustments before bottling
The blend's resulting sugar content can be adjusted by adding cane sugar (white vermouth) or caramel (red vermouth). The liquid is then carefully mixed to ensure all of the vermouth's various ingredients are thoroughly integrated. Manufacturers may then decide to proceed with a final 'marriage' stage in oak casks: the vermouth is left to rest for 5 to 6 months in casks with the bunghole left open to encourage contact with oxygen.
THE MAIN CATEGORIES OF VERMOUTH
Some European vermouths have been awarded 'protected designation of origin' status. This means that vermouth from Chambéry can only be made in Savoie, just as vermouth from Turin can only be made in Piedmont. The two main categories of vermouth emerged from a stringent classification process: 'sweet' vermouth is used for Italian vermouths, while 'dry' vermouths refers to French vermouths. This classification system has spread thanks to a number of books on the art of cocktail-making, which simply refer to French or Italian style when conveying the concept of a vermouth being dry or sweet. In both European countries however, manufacturers produced both styles of vermouth very early on. As well as sweet and dry, another vermouth category exists, known as 'Bianco' which was introduced to the market by Dolin. Today, vermouth manufacturers also offer 'semi-sweet' and 'semi-dry' styles.
VERMOUTH AND SUGAR - A CLOSE RELATIONSHIP
In addition to geographical origin, vermouths are classified by their sugar content: Extra Dry/Dry/Secco White vermouth contains 18% to 20% ABV, with sugar content of no more than 40g/litre. White/Bianco A golden-coloured vermouth with 16% ABV and a sugar content that varies between 100g and 150g/litre. Sweet/Rosso Amber vermouth (thanks to the addition of caramel), reaching 15% to 17% ABV with a sugar content equal to or in excess of 150g/litre.
FLAVOURED VERMOUTH
Very early on, vermouths served as a base that allowed manufacturers to expand their aromatic palettes. Dolin was the first vermouth brand to sell a strawberry-flavoured vermouth called Chamberyzette. Since then, other manufacturers have followed its example, such as the vanilla-flavoured Carpano Antica Formula.
CORRECT STORAGE OF VERMOUTH
Closed bottles of vermouth should be stored like spirits in an upright position. Once opened, the bottles must be kept completely immobile and in a cool place. As with all fortified wines, vermouth will deteriorate on exposure to oxygen, which alters its aroma and taste. Cool temperatures delay the effects of oxidation on the vermouth's flavour. Once opened, bottles of vermouth should be finished within a few weeks.
VERMOUTH AND SPIRITS - A HAPPY COUPLE
Gin & vermouth
Gin and vermouth speak the same language - the language of spices, roots, peel, plants and herbs, with tastes and flavours extracted via maceration or infusion. Martinez was born from a combination of vermouth and Old Tom gin, a much sweeter gin than those we are used to today.
Whisky & vermouth
The relationship between vermouth and whisky has its roots in Manhattan. Whether or not this cocktail was actually created in New York's Manhattan Club, its popularity is mostly due to this venue that celebrated its 50th anniversary in 1915 by releasing its 'secret' bourbon-based recipe for the Manhattan Cocktail, followed by a Scotch-based spin-off at the end of the 19th century named the Rob Roy.
Rum & vermouth
A favourite among Cuba's elite, El Presidente is based on Cuban white rum and French vermouth. It is said to have been created at the Sevilla-Biltmore in Havana.
Tequila & vermouth
A combination concocted and celebrated in pre-WWII London. The English barmen of the time created a powerful combination that brought forth an array of cocktails including the French vermouth- and tequila-based Matador.
Cognac & vermouth
A balanced, harmonious combination that fuses the woody notes of cognac with the bittersweet flavours of vermouth, embodied by the Metropole, a cocktail created in tribute to the eponymous bar located in a Times Square hotel.