The Bushmill's distillery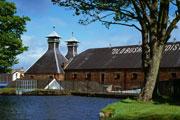 Located a stone's throw from the River Bush in the county of Antrim three miles from the sea, Bushmills takes its name from the eponymous village. Near this tranquil spot lies the extraordinary Giant's Causeway, a unique geological phenomenon and a UNESCO World Heritage site. These intriguing natural stepping stones were shaped over 50 million years ago and gave birth to a number of legends in which giants are said to have used them to make their way across the sea to Scotland.
Much more recently but just as legendary is the story of the Bushmill's distillery - awarded a license allowing it to officially produce whiskey since 1608, making it the world's oldest legal distillery. Unfortunately, no traces of the original buildings remain, as they were ravaged by fire. The oldest structures still standing do however date back to 1885. Up until the 1960s, the barley brewed in Bushmills came from the surrounding area or Northern Ireland.
To meet the distillery's growing needs and compensate for irregular harvests, barley is now largely imported from the Republic of Ireland. Operating in accordance with pure Irish tradition, Bushmills uses triple distillation to produce a highly delicate single malt with a pronounced fruitiness.
Bought by the Diageo group in 2005 after 17 years under Pernod Ricard ownership, Bushmills is embarking on a new chapter in its long history. Up until very recently, this distillery had lived in the shadow of Jameson without ever really reaching its full potential. The rare versions of single casks bottled since 2000 are extremely promising. Under the guidance of the world leader in single malts, this is a new opportunity for the distillery to shine in all of its glory.